Testing and evaluating the device
The testing process needs to be optimized to provide hospitals with a ready-made protocol
This project activity is lead by Thierry Naas
Assistance Publique Hôpitaux de Paris, APHP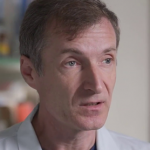 Expert level summary
The Carba5 and the CTX-M multi-devices are tested on spiked BAL or TA samples with well-characterised isolates displaying various targeted, but also non-targeted resistance mechanisms. Validation and testing of the VAN A/B and OXA-Ab devices are also carried out using well-characterised isolates displaying various resistance mechanisms. A final report on the small scale evaluation of the different devices and on the reader's performances on clinical samples enables the developers to determine the specificity and sensitivity for each matrix and each strip.
Detailed activity description
Validation on purified colonies of two novel tests dedicated to the detection of the ligases VAN A and B, both responsible for glycopeptide resistance among Enterococci, and OXA-type carbapenemases encountered in Acinetobacters sp. (50-well characterised Enterococci and 50-well characterized A. baumannii and P. mirabilis tested);
Clinical validation: 200 VAN A/B devices and 250 OXA-Ab devices evaluated on three matrices (Blood, urine, and stool) by each core hospital;
Validation of Bronchoalveolar lavages or tracheal aspirates as a novel mace (Extraction buffer, sample preparation, the limit of detection determination) using the Carba5, CTX-M-Multi, and OXA-Ab devices (50 spiked samples for each).
End of VAN A/B and OXA-Ab validation on three matrices (Blood, urine, and stool), and respiratory samples for OXA-Abs;
Validation of 3GC device for detection of determinants conferring third-generation cephalosporinases resistance (ESBLs (VEB, PER, GES, TEM, SHV), plasmid-encoded cephalosporinases (CMY, DHA) on colonies of 100 well-characterized isolates;
Clinical validation of 3GC devices on spiked matrices (Blood, urine, respiratory samples and stool);
The prototype reader is tested on clinical samples using the Carba5, CTX-M-Multi, VAN A/B, OXA-Ab devices in order to see possible interferences of clinical specimens with the reading and to set the threshold of positivity.