Coalition for faster diagnosis and better care
Top European experts of clinical research, academia and business unite their efforts to tackle one of Europe's most significant health challenges: antimicrobial resistance
Welcome by Hervé Volland project Coordinator
French Alternative Energies and Atomic Energy Commission, CEA
Our current AMR DetecTool project is based on an initial solution which was provided through an innovation that directly detected β-lactamases in clinical samples in under 30 minutes, successfully validated during a 1-year project of the European Institute of Innovation and Technology – Health in 2018 (See bldetectool.com), by the collaborative work of clinics, hospitals, universities, research institutes and a business partner.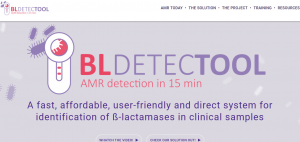 The same project team now is joining forces again to 1) expand the domain of the detection; 2) evaluate the impact of this tool on diagnosis pathways and cost savings; 3) and develop an AMR Knowledge Portal to support hospitals with their AMR strategy.
Please meet below our institutional project partners and the leaders of our key activities.
Institutional project partners
| | |
| --- | --- |
| French Alternative Energies and Atomic Energy Commission (Commissariat à l'énergie atomique et aux énergies alternatives, CEA) | |
| Barcelona Institute for Global Health (Fundación privada Instituto de Salud Global Barcelona, IS Global) | |
| Semmelweis University, Budapest (Semmelweis Egyetem) | |
| Public Assistance Hospitals of Paris, (Assistance Publique Hôpitaux de Paris, AP-HP) | |
| Universitat de Barcelona (University of Barcelona) | |
| IESE Business School, University of Navarra, Barcelona (Universidad de Navarra) | |
| NG Biotech, external industrial partner, Rennes | |
| | |
| --- | --- |
| Bellvitge Biomedical Research Institute (Institut d'Investigació Biomèdica de Bellvitge), Barcelona | |
| Central Hospital of Southern Pest National Institute of Hematology and Infectious Diseases (Dél-Pesti Centrumkórház Országos Hematológiai és Infektológiai Intézet), Budapest | |
| Clinical Research Center (Centre de Recherche Clinique, CHRU), Amiens | |
| Attikon University Hospital, Athens | |
| Clinical Medicine Department University of Florence (Medicina Sperimentale e Clinica, Università degli Studi di Firenze | |
| Institute for Medical Laboratory Diagnostics (Institut für Medizinische Laboratoriumsdiagnostik, IML), Bochum | |
| Queen Mary University of London | |
| | |
| --- | --- |
| | The AMR Detection project – Management (WP1) – Hervé Volland project Coordinator (French Alternative Energies and Atomic Energy Commission, CEA) |
| | The detection device – Production (WP2) – Hervé Volland project Coordinator (French Alternative Energies and Atomic Energy Commission, CEA) |
| | Testing the method (WP3) – Thierry Naas (Assistance Publique Hôpitaux de Paris, APHP) |
| | Applying the test in hospitals (WP4) – Jordi Vila Estapé (Barcelona Institute for Global Health, IS Global) |
| | Clinical study (WP5) – Thierry Naas (Assistance Publique Hôpitaux de Paris, APHP) |
| | Sales & Knowledge Portal (WP6) – Albert Zoltan Aszalos (Semmelweis University, Budapest) |
| | Saving costs with the device study (WP7) – Magda Rosenmoller (IESE Business School, University of Navarra, Barcelona) |
| | Project Communication (WP8) – Albert Zoltan Aszalos, Semmelweis University, Budapest Co-leader: Clara Ballesté, Barcelona Institute for Global Health (IS Global, Barcelona) |